Moon Phases Rituals & Manifesting Planner
Since ancient times, many cultures believe that the moon has magical powers to assist in manifesting positive things into reality.
Knowing how to use the moon phases and moon rituals will help you manifest whatever you desire.
But sadly, there's a lot of confusing information out there that makes it seem overwhelming or complicated. Manifesting can be surprisingly simple when you have the right tools and guide! 
The Moon Phases Rituals & Manifesting Planner is an exciting guide that shows you how to reach your goals using the lunar phases, easy-to-do rituals, and fun, practical action steps.
The planner includes:
How To Use Your Moon Rituals & Manifesting Planner Sheet - so you can get started quickly
Moon Phases Guide - so you know EXACTLY what phase is in charge of what when you're manifesting
"The Best Moon Phase for Manifesting & How to Do It" Guide - so you know when you should start setting your intentions
"Moon Phase Rituals to Manifest What You Want" Guide - learn the basic ritual steps, so you can manifest more powerfully
New Moon & Full Moon Tarot Spread Worksheets - gain additional insight surrounding your situation or desired outcome
Moon Phases Planner Templates - track your progress with each phase of the moon with these accountability pages
Manifesting Notes Template - use this "big picture" page to help you identify patterns in your manifesting through a lunar cycle
Undated Moon Calendars (2 versions) - use the calendar to help you recognize signs or synchronicities as you manifest with the moon
Mood Trackers (2 versions) - use the mood trackers to connect your moods with the moon phases and your energy levels
This 36-page planner is an INSTANT DOWNLOAD and ready for you to easily download or print out. 
Just download it after purchase, open it up and dive right in. Everything has been laid out for you in a concise and organized manner. 
You can use this planner as part of your personal, spiritual maintenance routine, or as a tool to help you reach your business goals.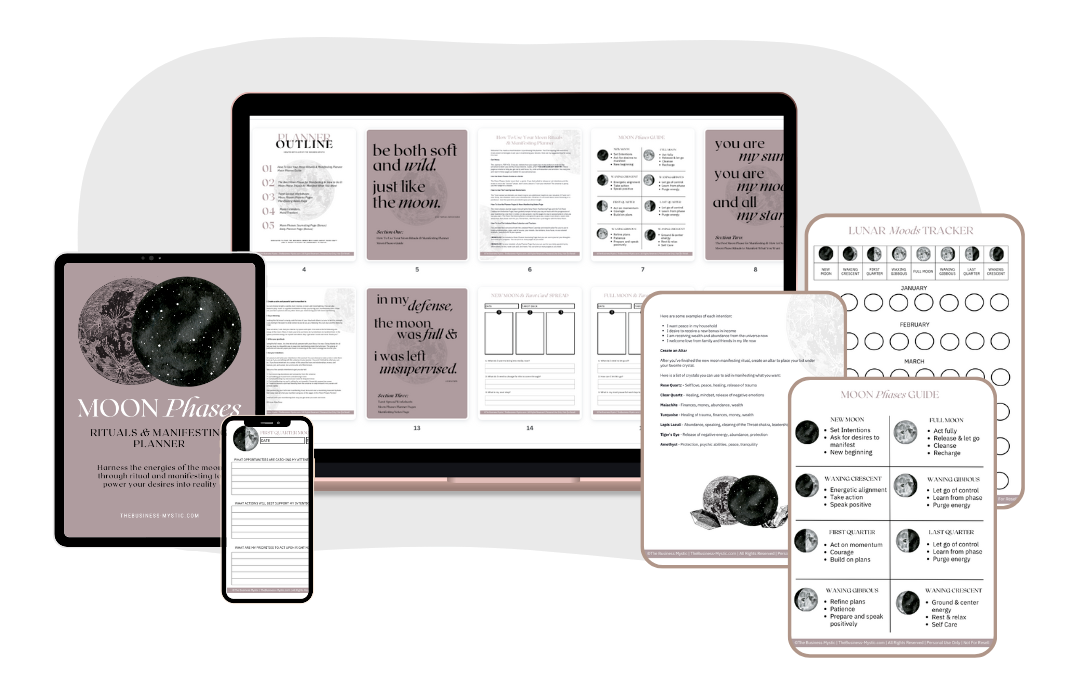 Inside your planner, you get guides: 
Guides on the different phases of the moon, how to manifest using the phases of the moon, and easy-to-do rituals to boost your manifesting efforts. 

You get worksheets & planner page templates: 
These worksheets and templates will help you track your progress and stay accountable to your goals. Best of all, you can print out these pages again and again for each lunar cycle.  

You get calendar & tracker templates: 
These templates will help you track patterns and your moods throughout the month. And just like the worksheets & planner pages, you can print these out again and again for each lunar cycle.  

Plus, you also get these BONUS templates with your purchase: 
BONUS #1: Moon Phases Journaling Page Template - Clear the mental clutter and find solutions to any challenges that pop up with this journaling page
BONUS #2: Daily Schedule Page Template - Integrate your moon manifesting actions with your day-to-day activities with this handy daily schedule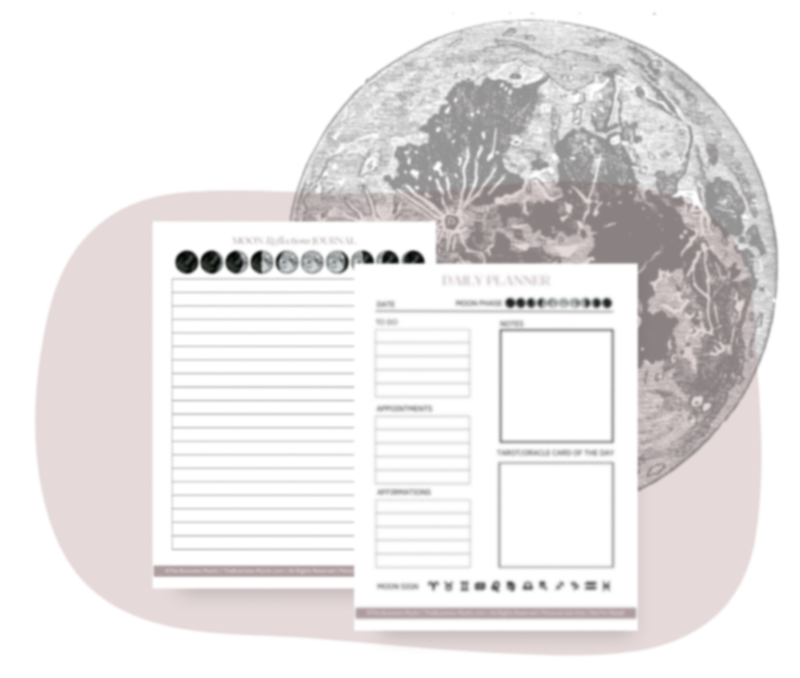 Millions of people everyday use manifesting techniques to change their lives for the better...
So, why not you? Even if you've struggled taking action in the past, this intuitive planner will work for you.
Why? Because you'll not ONLY have the information, but you'll ALSO have the insight on how to USE that information.
And insight is what will motivate you to take action. 
Do I believe you're worthy of your dreams? You bet I do!
How can the Moon Phases Planner help you? 
You'll overcome your need for perfection when it comes to writing your goals down
You'll recognize that you don't need to be perfect to worthy of your dreams
You'll discover how the different phases of the moon help you achieve your goals
You'll learn how to incorporate your favorite method of divination into your daily life
You'll see the benefits of tracking your progress with planning pages
You'll create an action plan that is built around your energy and personality
You'll identify how your moods affect your focus
You'll find solutions to your obstacles using the journaling page
You'll organize your day better using the daily planner page
You'll learn how to integrate woo into your daily life while taking practical action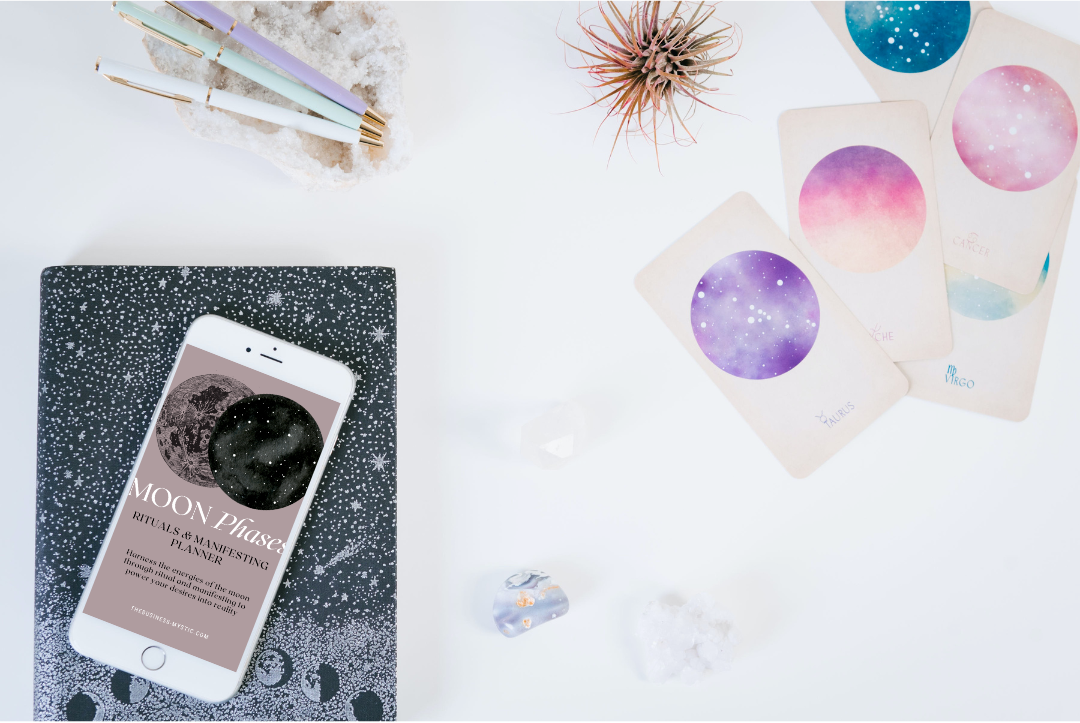 What else can you do with this planner?
Use it to get in touch with your spiritual side if you're just starting your journey #BeginnerFriendly
Use it to work with the lunar phases even if you've never worked with them before
Use it to be more intentional when it comes to your goal setting and self-accountability
Remember, you have everything you need within you to succeed and reach your dreams.

Download your Moon Phases Planner Now!