Check your inbox within a few minutes. You'll receive an email with the link or information on how to access your download!
Need help? If you need assistance, please email us at support@thebusiness-mystic.com
WAIT! Before you go...
Did you know that powerful brand positioning copy is still the #1 to quickly establish your expertise? But what if you feel like you suck at writing your bio?
Or don't have the budget to hire a professional copywriter to help you write your salespages? 
I've got you covered with my Brand Love Guide + Profit Positioning Word List that you can quickly help you identify your brand vibe. 
Here's what you'll get inside this instant download:
The Profit Positioning Words Technique: Guide on how to use The Profit Positioning Words technique

Find Your Profit Words Exercise: A fill in the blank Template to help you find your Profit Positioning Words

Brand Examples of different types of brands / businesses with their Profit Positioning Words

Copywriting Templates: Two (2) super-easy-to-do copywriting templates to use

Access To The Profit Positioning Word Categories: Occult, Mystical / Spiritual, Elemental, Peaceful / Healing / Calm, Confident, Powerful, Heavenly, Cool, Daring, Unique, Trustworthy, and Expensive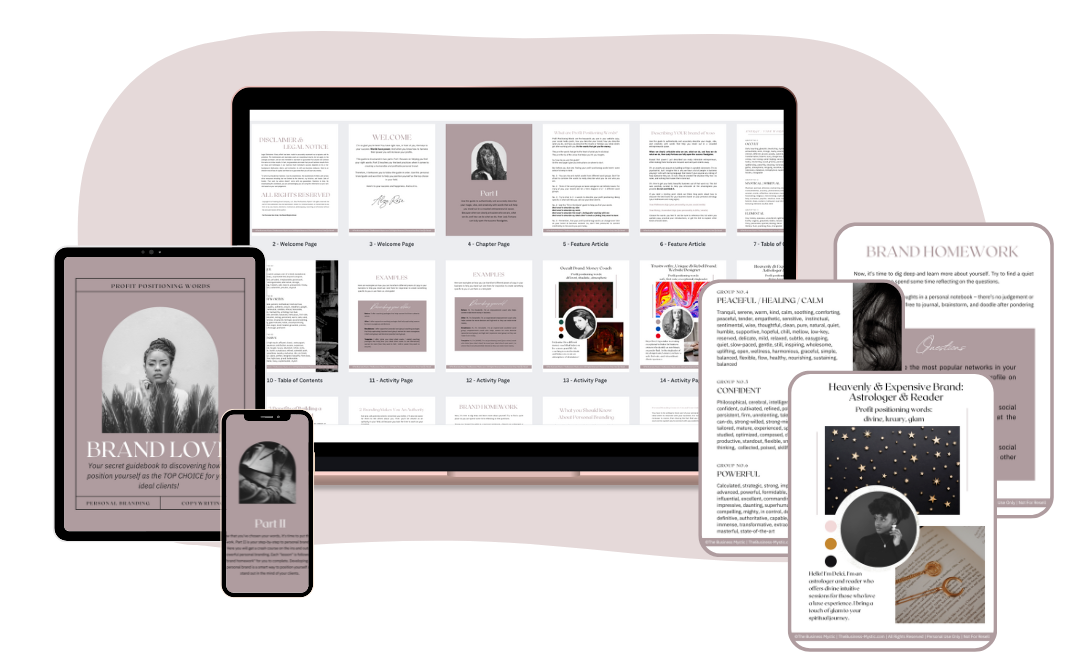 You'll receive the easy-to-follow brand guide and list of 470 profit positioning words (categorized into 12 word groups).

You're unique in what you do, so let's make sure you can articulate the uniqueness that helps you stand out and attract the RIGHT customers to your door (or buy now button).
Download your copy today and go from sounding like everyone else to sounding like you.