Check your inbox within a few minutes. You'll receive an email with the link or information on how to access your download!
Need help? If you need assistance, please email us at support@thebusiness-mystic.com
WAIT! Before you go...
Did you know that creating a profitable, fulfilling business isn't done by accident, but through revenue generating habits? But what if you've been struggling with growing your income consistently? 
I've got you covered with my Cash In! The Revenue Makeover Plan that will quickly help you learn the inner and outer workings of a profitable business.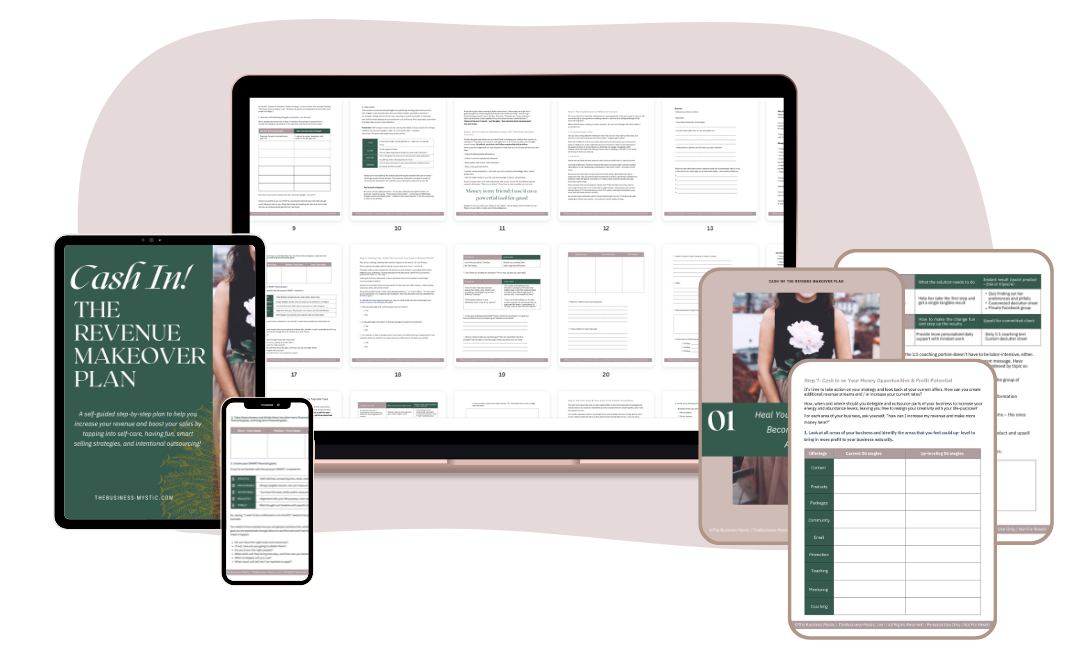 Here's what you'll get inside this instant download:
Step 1: Discovering Your Money Story and Release Any Money Shame
Step 2: Creating an Abundance Mindset that Leads to Wealth
Step 3: Staying Focused on Daily Abundance with These Easy Everyday Practices
Step 4: Establishing a Morning Routine for Millionaire Success
Step 5: Making Your Life & Business Go from Dream to Your Reality
Step 6: Creating Your Action Plan to Crush Your Goals & Achieve Wealth
Step 7: Cashing in on Your Money Opportunities & Profit Potential
Step 8: Turning Problems into Solutions and Attract More $$$$
Step 9: Nailing Your Sales Process & Then Scale It For Endless Possibilities
Step 10: Start Streamlining and Automating Your Business to Increase Cash Flow Seamlessly
You'll receive the easy-to-follow plan and supplemental worksheets (make it easy for money to come in).
Break the bad habits of busywork with this revenue makeover plan! You deserve it!
Get your revenue plan today and start bringing in consistent income.